Hi, back again for however long until the admins decide exactly what the future of the board is.

Last week was a really busy week-starting Saturday before this past. Our church had been planning for a couple of months to put on a program called Heaven's Gates and Hell's Flames. It's a drama © to Reality Ministries and they have teams all across the U.S. and around the world. They come in on a Friday and on Saturday we helped decorate the stage we put up built to their specifications. After lunch we read for parts and were assigned afterwards. I got to be an angel which meant we had the hardest job of all-standing in one spot the entire drama and just moving our arms at the appropriate moments. You try standing in one spot for an hour and a half and see if it isn't a hard thing to do!

Anyway-all Saturday afternoon was spent rehearsing the various skits with scripts and then we stayed at church all afternoon Sunday rehearsing without them. Our first showing was Sunday night with two more showings on the next two nights. I'm not sure how many people showed up those three nights but Tuesday night was almost SRO. I'm also not sure how many came to the altar to either rededicate or to be saved but it was a lot each night. I have a feeling this is going to be a regular occurance from now on-at least once a year. I know I'll do it again in a heartbeat-sore feet and all!

The only dowside is no pictures-since it's © there was no videos or pictures allowed. We did get one video to show to the church but no copies will be allowed-it's only fair.

The only pictures are those taken during rehearsal with no costumes. I tell you-if you've never seen this, and you hear of it running near you, go see it!

Well, I've been gone a long time-better than a year, according to my last entry. Sorry, I'll try to hang around more.
Anyway, I've gotten back into sewing and last week I made several items-two skirts, a top, a pair of shorts, a pair of gaucho trousers, a jacket and an apron.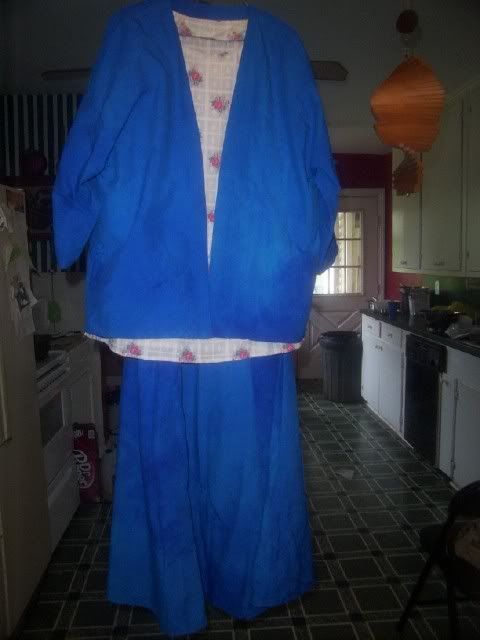 Hope you all like.
I'm also trying to make a pattern for a pair of cropped trousers I found in the house. They're a size 16 and I wear an 18 so they're a might tight but I like the way they're made-minus the self belt, which I can leave out. I picked half of the pair out into pieces and it's really simple-a front, a back and a pocket. They're almost exactly like the shorts pattern I always use except for the way the pocket is constructed so I left the other half of the trousers intact so I could study how they're put together.
I have the front on an old piece of wrapping paper and taped down. I've drawn it out, adding about ¾" on each side to make them more roomy. I don't need any more length so I left that the same. Now all I have to do is do the same thing with the back piece and the pocket, I'll need to add ¾" to the straight edge of it so it will still fit right.
I really hope this turns out, I really like this pair of trousers and would like to make more.
Something disturbing happened in church today. Our pastor had just started his sermon and was reading from the bible when a man a few rows behind me started gasping for breath and then collapsed. His tongue was swollen and hanging out.

There were several visitors today who knew what to do and immediately asked for someone to call 911 then started CPR.

He looked terrible, I watched as his face went to dark purple in just a few seconds and his abdomen extended. After the ambulance got there they were able to put a tube down his throat. They had to shock him back then got him on a stretcher and took him out.' I'm still not sure if he's going to make it or not, I guess we'll find out tonight, I'm sure our pastor will let us know. I really hope I never have to see that again. The nurse who helped said it looked like he had a heart attack.
I'm cleaning in the house today since I have a whole day. Kathy (Gregg's mom) has the day off so she gets to watch Joseph. I was going to clean pools but the thunderstorm that sprang up awhile ago changed that.

I just hope the electricity doesn't go off.

I just finished cleaning under my stovetop, it was indescribably icky but it's about 95% better now. Now I just have to scrub the stovetop itself off, which is equally icky.

I washed a load of clothes too, they should be coming out of the dryer in just a bit.

So I had to take Joseph to the doctor this morning, he'd been coughing all night and Jen was worried. The doctor said it looked like allergies and he prescribed albuterol for his wheezing and prednisone for the allergies and said he should be ok in a few days. Gregg thinks it was some new cologne he put on yesterday. He put it on and picked Joseph up before the cologne had had a chance to settle in. I mentioned that to the doctor and he said it could be, it was hard to tell but we'll see. Poor thing slept nearly all day, except when he was taking a bottle and coughed all day too. The doctor said to keep fluids in him to help with the coughing.

At least he wasn't running a fever.


Hi, I'll be back with more when I don't have to go cook supper.